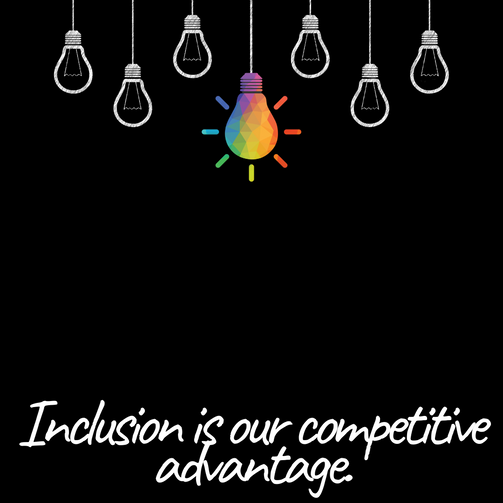 Inclusive Leaders' Mastermind (Class of 3rd Quarter, 2021) - SOLD OUT
Inclusive Leaders' Mastermind (Class of 3rd Quarter, 2021) - SOLD OUT
Regular price

Sale price

$567.99
Join, contribute, and learn from an inclusive leader peer group.  Only 20 spots available, starts 3rd quarter, 2021.
The Inclusive Leader Mastermind group is for leaders who recognize inclusion is more than a moral obligation; it's a business imperative. Members will read the book, The 7 Simple Habits of Inclusive Leaders and actively work to apply the concepts.

This Mastermind is a combination of brainstorming, education, peer accountability, and support in a psychologically safe group setting to empower skills as inclusive leaders. We challenge each other to build inclusive habits and view mistakes as vital to the learning process.
This community is a guilt-free space. Members do not shame or blame each other.
Participation can be anonymous if desired. Creating psychological safety is paramount to the efficacy of these discussions. A confidentiality agreement will be required for all members.

The ideal members meet the following criteria:
People Leader

 – You directly manage and are accountable for the results of a team of people.

Growth-Minded

 – You want to operationalize inclusion in your team's process, culture, and experiences.

Committed 

– You are committed to being more inclusive and want to level-up your efforts.

Feedback 

– You recognize feedback is a gift, and you are open to receiving it. You also have experience giving feedback in a constructive and healthy manner.

Influencer 

– You influence change, and you're committed to inclusion.
This group is facilitated by Melissa Majors and her team of inclusive leadership experts. Their role is to spark deep thought and promote dialogue within the community.
The mastermind group's goal is to work through all seven of the inclusive leadership habits, apply the concepts, brainstorm solutions to peer's challenges, share successes, failures, and encourage members.
Members meet via Zoom, bi-weekly for 1-hour for 8-weeks. Between meetings, members collaborate and stay socially connected through the members-only portal. Each session has published agenda, so conversations stay focused.
This Mastermind requires commitment, confidentiality, willingness to give and receive advice and ideas, and support each other with total honesty, respect, and compassion.

Feel free to contact us at hello@melissamajors.com with questions.
Couldn't load pickup availability